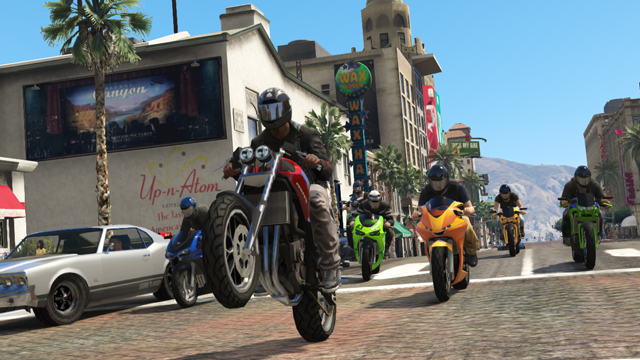 A snap of the new Grand Theft Auto: Online racing update posted by Rockstar
That's just the beginning, because Rockstar has just announced that Grand Theft Auto V will get an all-new single-player Story Mode DLC (Downloadable Content) in 2014! Unlike Grand Theft Auto IV that introduced new protagonists and stories with the DLCs, the Grand Theft Auto V Story DLC will be a part of the main storyline and will put you back in the exciting lives of Michael, Franklin and Trevor. Rockstar has stated on their
official website:
GTAV Story Mode Updates. For those ready to jump back into the story of Grand Theft Auto V, we have big plans for substantial additions in 2014 continuing Michael, Franklin and Trevor's action, mayhem and unexpected adventures in Southern San Andreas.
There's not only single-player content coming out, Grand Theft Auto: Online will be getting an update the majority of GTA Online players have been asking for, Online Heists! This update will also be coming out in 2014. Rockstar's statement
:
GTA Online Heists. We know many of you in the GTA Online community are super excited for the debut of co-operative Heists. Heists are currently in development and we are working very hard to get them as polished and as fun as they can be. Stay tuned for much more detail in the New Year.
If you have missed our previous articles of Grand Theft Auto, we've given coverage on these topics:




Published On